Meridiani, the renowned Italian brand that prides itself on its distinguished and recognizable style and identity – an image that suggests a sophisticated way of living in everyday life. This time, Meridiani has amazed us through the transforming of visual dynamics shaped into organic forms, and brought it "coming to life".
Unmasking Meridiani's Design Mastery: Highlights from Salone del Mobile 2023
The Oscar Collections
Welcome to a world where elegance meets functionality, where design seamlessly merges with comfort. Meridiani, the renowned Italian brand, has once again captivated the hearts of design enthusiasts with their latest collection for 2023. Spearheaded by the visionary art director and designer Andrea Parisio, Meridiani presents a symphony of exquisite craftsmanship, organic forms, and balanced aesthetics. Join us as we explore the captivating pieces that embody the essence of sophisticated living.
Functionality and Balance:
The Meridiani Collection 2023 epitomizes the perfect combination of functionality and balance. Every piece in this collection showcases extreme simplicity, harmoniously blending rounded and linear shapes. Designed specifically for indoor spaces, these furniture pieces inspire charm through their soft volumes, creating intimate and welcoming environments. Step into a world where every element contributes to an enchanting concept of living.
The Oscar Collection: Continuity and Elegance Redefined
Oscar Sofa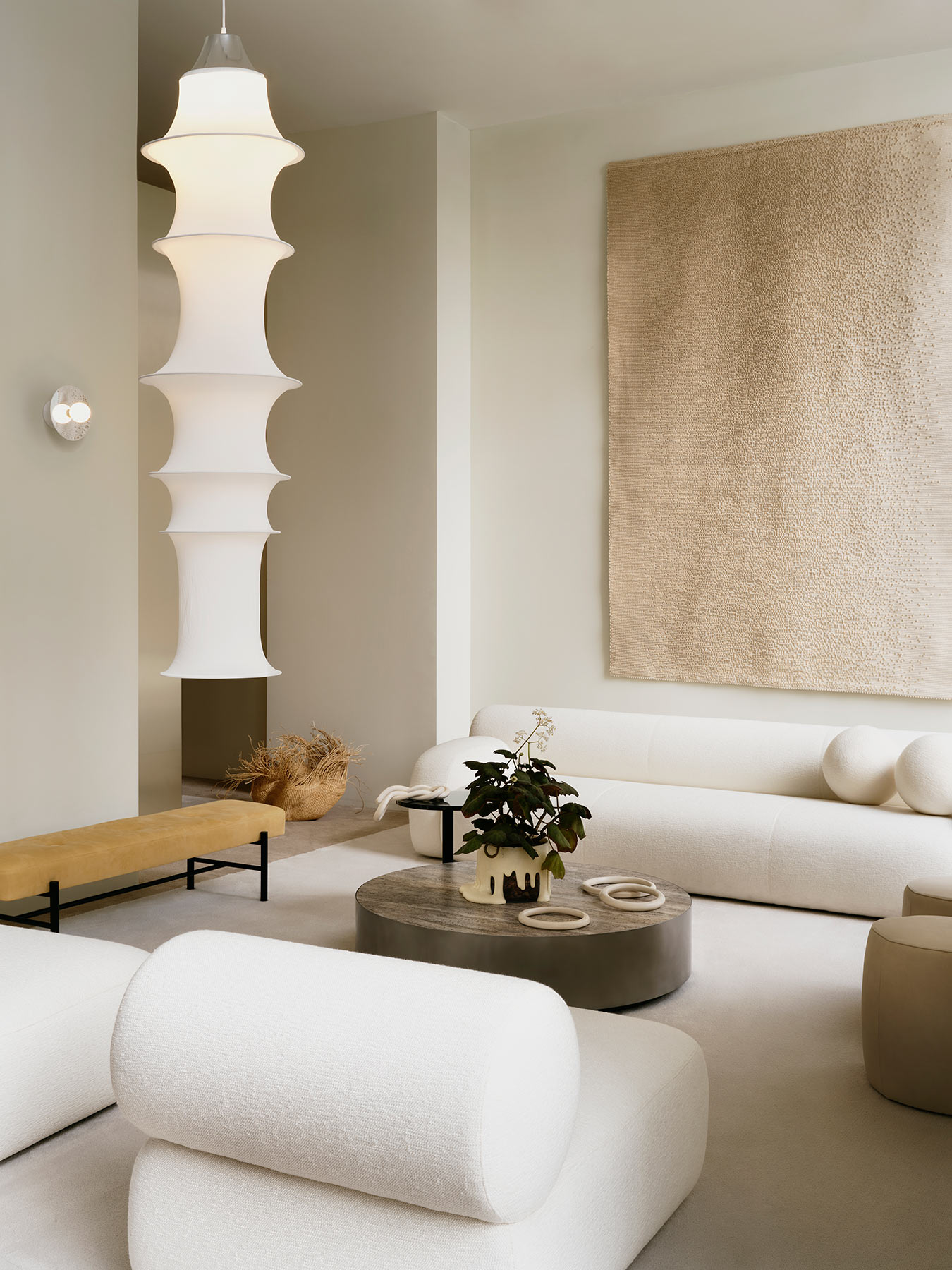 Oscar Armchair and Relax Chaise
Drawing inspiration from the letter 'O,' the Oscar Collection symbolizes continuity and balance. Featuring a sofa, relax chaise and armchair, this collection exudes elegance through its soft shapes and contemporary details. The addition of a unique saddle leather bar enhances the backrests, adding a touch of luxury to these already remarkable pieces.
The Max Collection: Versatile Sophistication
Max Collection Sofa
Versatility takes center stage with the Max Collection. A modular sofa system, it offers a myriad of configurations to suit diverse needs and spaces. Clean, pure geometries combined with the option of matte or glossy side tables result in a collection that embodies rationalism and functionality. Embrace the freedom to create your perfect seating arrangement with a touch of sophisticated flair.
The Nora Armchair: Tailored Luxury
The Nora Armchair boasts generous proportions and upholstered armrests, inviting you to experience the art of sitting in utmost comfort. Meridiani's tailoring approach shines through in this piece, offering a high level of customization. Choose between different versions, including a formal version with solid wooden legs, a fully fabric or leather-covered version, or indulge in a playful combination of various fabrics for the seat, backrest, legs, and armrests. Experience the epitome of luxurious seating tailored to your unique style.
The Baco Pouf: Versatile Charm
Baco poufs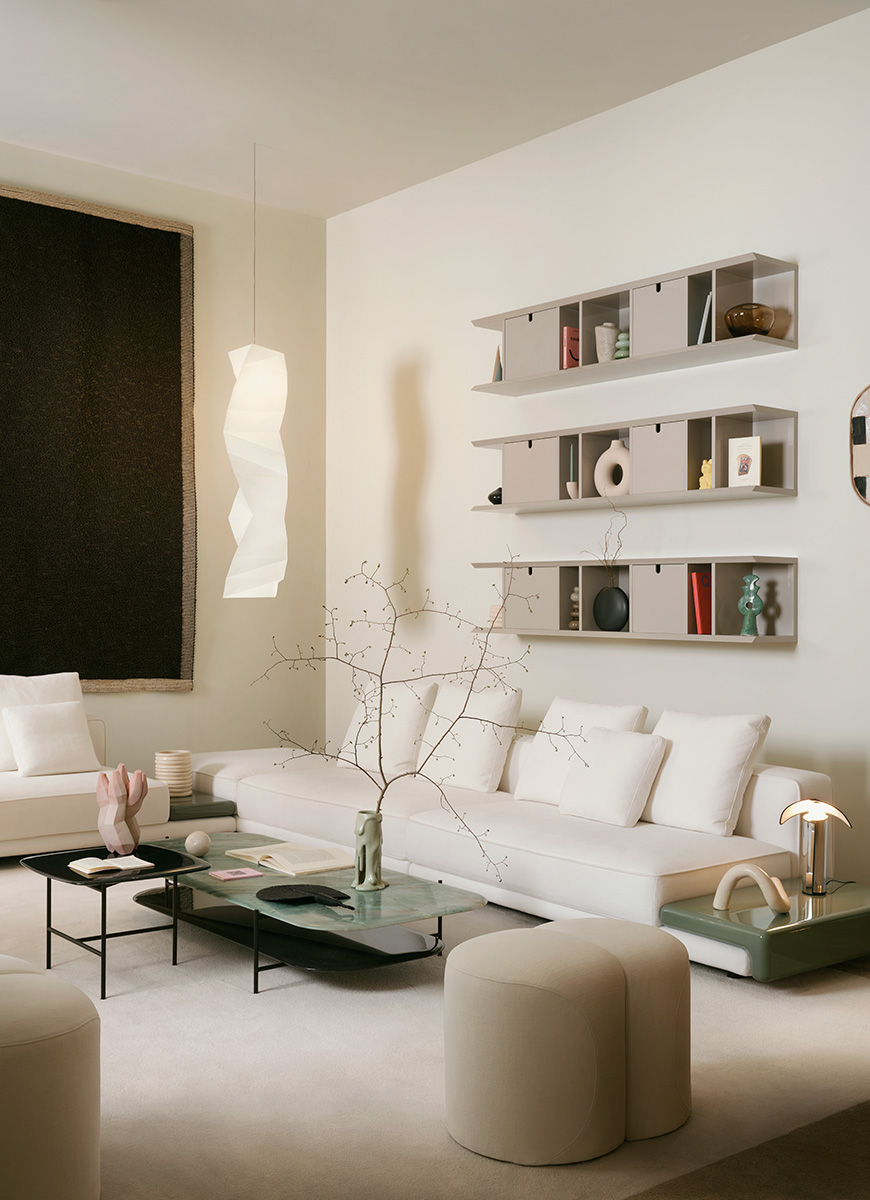 A must-have for any living area, the Baco Pouf introduces a system of poufs with different shapes that can be freely combined. Thanks to the use of magnets, these versatile pieces can be easily modified and reconfigured, enabling dynamic environments that adapt to your evolving needs. Embrace flexibility without compromising on style, infusing your space with a touch of charming versatility.
The Bongo Kuoio Low Table: Exclusivity in Detail
Bongo Kuoio Low Table
With meticulous attention to detail and aesthetic values, the Bongo Kuoio Low Table stands as an exclusive piece of furniture. Its new finish, skillfully hand-woven with the softness and strength of saddle leather, beautifully embraces the geometric shapes of the collection. Indulge in the allure of this exquisite table, perfect for elevating any interior space with its fine craftsmanship and distinctive character.
Marquis Q Square: Bringing Meridiani to You
At Marquis Q Square, we are proud to announce that we are offering the prestigious Meridiani brand and its latest collection. Immerse yourself in the world of elegance and functionality by exploring the full range of Meridiani's remarkable designs. Meridiani's latest collection for 2023, designed by the renowned Andrea Parisio, presents a symphony of elegance and functionality. Through a harmonious blend of visual dynamics and organic forms, Meridiani brings everyday living to new heights. With an emphasis on balance, comfort, and adaptability, each piece seamlessly integrates into indoor spaces, creating characterful experiences.
Indulge in the unparalleled comfort of Meridiani's meticulously crafted furniture, a seamless blend of style and substance that
Marquis Singapore proudly brings to you.
2022 Collections:
RENE
Thanks to the high craftsmanship, emphasizing the expressive lines of the new René sofa designed by Andrea Parisio. The feeling of cosy and comfortable, with bold in its combinations; this project shows the greatest flexibility, both in terms of available units and combination of the materials. René reveals the personality of those who choose it, thanks to modularities and materials able to transform this piece into a unique, totally personal project.
ITALO
Solid in its aesthetically smooth shapes, the Italo table presents itself as a product with a well-defined personality. Available in the classical formats - round, square and rectangular, but with rounded corners - it shows sinuous lines with sections marked by a sculptural and monumental character, both in the top and in the base, with three or four legs. The proposal of different colour patterns for the matt or glossy lacquers and the marbles gives life to unique pieces.
TERESINA
With two souls enclosed in the same body: a chair and a lounge small armchair marked by essential lines that take shape and structure thanks to the warmth and the solidity of oak wood, skilfully crafted.